---
The Department of Statistics and Data Sciences is now offering the Elements Collection of courses!
These upper-division courses are offered every long semester and are open to students from all majors. Register for an Elements course to build or enhance skillset in areas that are in high demand by employers or to strengthen applications for graduate school: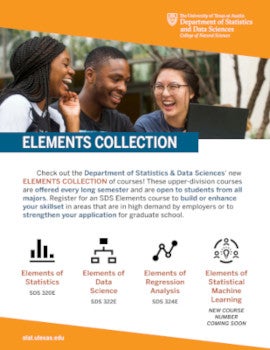 SDS 320E Elements of Statistics
SDS 322E Elements of Data Science
SDS 324E Elements of Regression Analysis
Coming Soon! Elements of Statistical Machine Learning
Click here to see the Elements Collection informational flyer.
Share
https://stat.utexas.edu/news/academic-announcement/sds-focus-elements-collection
---
UT Center for Teaching and Learning